Kitchen Tiles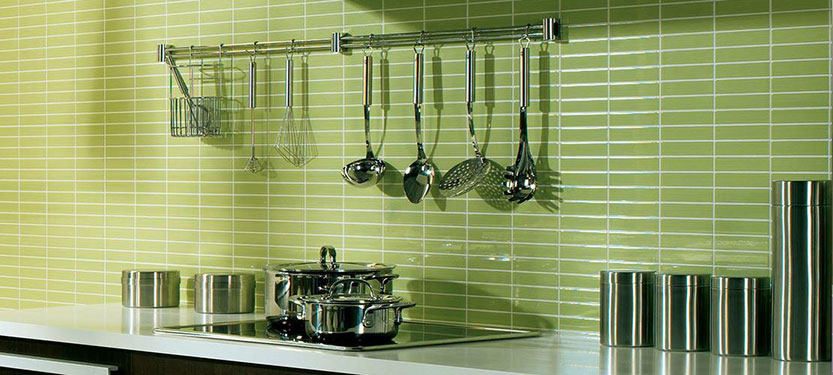 Kitchen tiles possess durability, strength, ease of cleaning and ability to handle utensils that may be sharp or very hot makes them the ideal surface for almost all areas of a kitchen. Kitchen tiles keep their finish over time, never need to be painted, and can withstand heavy traffic better than almost any other floor covering. With the recent surge in popularity of outdoor kitchens, the universal and versatile kitchen tiles has found another niche in the home construction industry.
Some of the matters to consider when using tile in your kitchen, whether be it a remodeling project or new build, is figuring out the right type, size, and colour of tile to use and how to integrate you tile choices into a pleasing and functional kitchen design. To help with that task, here are a few pointers on kitchen tiles selection:
Application
Review your building plan with the contractor or architect to understand where the tiles are going to be applied. While tiles are often used on floors, walls, counters as well as back splash areas, you can have too much of a good thing. Solicit advice and suggestions from others as well as from home decor magazines and publications. You will probably come across ideas and applications that you would never have thought about on your own.
Budget
Now that you have a rough idea of how you will use tiles in your new kitchen it is time to establish your budgeting constraints. Tile, as a general rule, is going to cost more than some of the alternative materials. You don't want to get committed to a plan that will cost so much you end up having to make compromises on other parts of the kitchen such as the appliances or plumbing fixtures. Here again, the importance of a professional contractor who can advise and guide you on costs will be a big help in avoiding any financial issues during the project or after it is completed.
Material
With a design strategy and budget firmly in place, it is time to choose the tiles. This is the part of the process that can be a lot of fun as well as confusing. Tiles can be made out of a wide range of materials including stone, vinyl, ceramic and glass. Terracotta and slate tiles are also materials used for floor applications. The more you learn about the characteristics of each type of tile the more you will recognize that there are pros and cons to almost every different type.
In conclusion, the best way to ensure that you end up with a kitchen design pleasing to the eye that will give long years of service at an affordable price is to do your homework, learn all you can about the different tile options and work closely with your building contractor or architect.