Laminate Flooring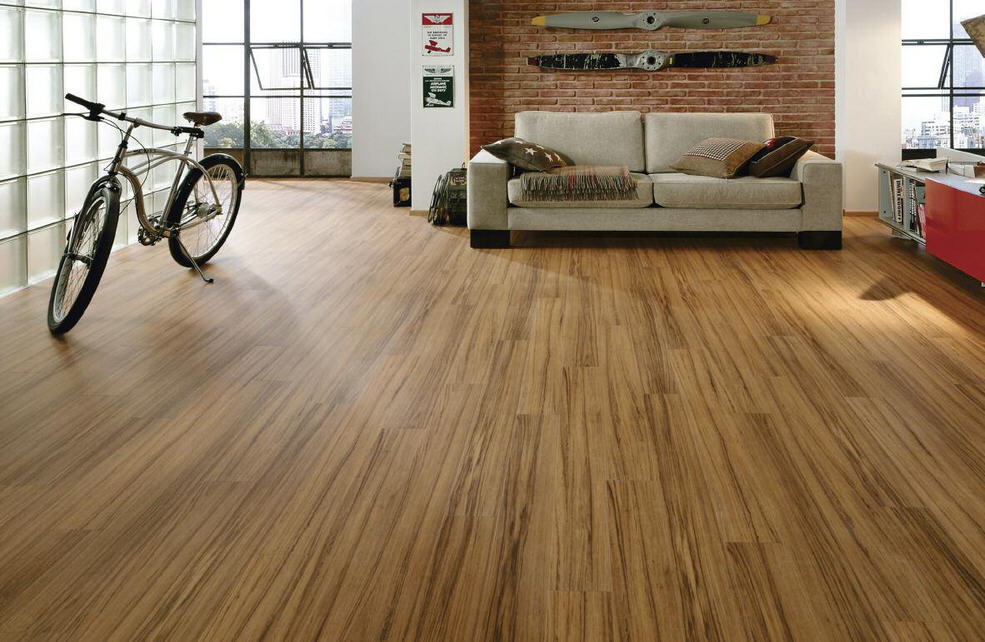 Laminate flooring creates the look that most closely reflects nature's perfect building material, giving your home a warm, solid personality with a surface that will provide a high quality floor that lasts for decades. These floors are hard wearing, long lasting and will remain beautiful for years to come with little or no maintenance.
What is laminate flooring?
As its name infers, laminate flooring is flooring that is composed of multiple layers of material that are designed to come together to resist moisture and warpage while at the same time providing a beautiful and long lasting surface.

The base layer is called the "backing" and it is the layer that gives laminate flooring its resistance to moisture.

Next comes the inner core that is typically made from a high density fibreboard, reinforced with resins that provide the structural integrity and strength to the flooring.

The next layer is often referred to as the design layer. This is where the wood or stone image is imparted to the surface of the flooring and is textured to create the type of floor the customer is specifying.

The top layer is the wear layer and is a surface that is designed to resist scratching and wear from everyday foot traffic.
Key characteristics of laminate flooring –
A wide variety of designs and colours. With the recent advancements in printing technology, laminate flooring manufacturers are able to offer an almost endless variety of designs, patterns, and colours with images so realistic that they are often confused with the original source of the design.

Affordability – laminate flooring was originally introduced back in the 1970's as a cheaper alternative to real hardwood floors. It allowed homeowners to have the look of hardwood flooring without the imposing price tag. Unfortunately, some of those early products left something to be desired in their visual appeal and tended to look artificial. After almost 50 years of improvements and product evolution, today's laminate flooring looks and feels like real wood and features quality levels that are unsurpassed in the flooring industry.

Low maintenance compared to hardwood flooring. Laminate flooring will take care of itself and provide years of trouble free service. Many laminate floors come with a 25 year warranty. When comparing to hardwood flooring, you might expect to refinish a hardwood floor over the life of the floor. This is not the case with laminate flooring. If your home will see lots of foot traffic from kids, pets and guests, laminate flooring is going to provide you with the best value, most durable surface, and trouble free usage over the life of the floor.
In summary, laminate flooring offers the homeowner a style and design that is right for every taste and lifestyle. Laminate floors are quiet, beautiful, durable and cost effective. They are easy to install, are compatible with in floor heating applications, and support an environmentally healthy indoor climate. If laminate flooring is in your home design plans, we are more than happy to discuss pricing, designs, and specific applications with you at your convenience.