Laminated Tempered Glass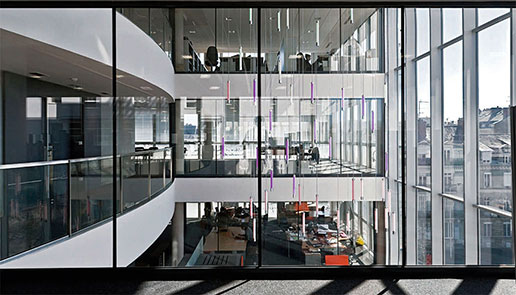 Laminated Tempered Glass Makes a Good Building Material
The glass that is used in buildings is a very important component of the overall structure. Many skyscrapers make use of a lot of clear material, in order to let in natural light and allow for an expansive view, as well as create a sense of lightness in the overall structure. This means that the glass has to be strong, while remaining transparent or translucent. Nowadays, one popular option for windows in buildings is laminated tempered glass. This is a material that has its roots in other applications.
What is Laminated Tempered Glass?
To understand laminated tempered glass, it's important to begin with tempered glass. This is a material that was developed because there was a need to create something stronger and safer to work with, compared to regular glass. The tempered version offered the advantage of a material that still functioned and looked the same, but which was up to five times stronger, and, therefore, harder to break. In the event it broke, tempered glass had the advantage of breaking up into smaller pieces, which did not have sharp edges. Finally, this form of glass was made to withstand relatively high temperatures, so it was a good choice for surfaces regularly exposed to hot water, the sun and other heat sources.
Now, laminated glass also offers safety advantages, but it works in a different way. This product is made of three layers, with glass on both sides, and a film of plastic in the middle. Because of this composition, even if the glass breaks, it does not send sharp pieces flying at people. The plastic film acts as a protector from possible injury or damage.
Laminated tempered glass is an evolution of the material which builds on those first two versions. It draws on both techniques so that here, the material is made up of two or more layers of glass, combined with layers of polyvinyl butyral (PVB), which is a kind of resin.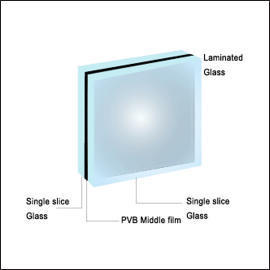 Laminated Tempered Glass: Benefits
The combination of both techniques offers a number of key advantages. First of all, if the glass ends up broken, the resin will help to keep the surface intact. This also makes it harder for intruders to completely destroy a home window made of this material. Laminated tempered glass also has properties, which help to add noise dampening and block harmful radiation. These benefits help to explain why this material is sought after as a building material for windows, facades, screens, sky lights, floors and more.
Laminated Tempered Glass: Types 
Laminated tempered glass is categorised according to the thickness of the various glass panes involved, as well as the thickness of layers of polyvinyl butyral. So for example, a glass pane can have a thickness of 10mm, 8 mm, 6mm, 4 mm, or something else. And the PVB layers can range in thickness from 0.76 mm, 0.38 mm or a different measurement. The various categorisations will then flow from the different combinations of glass and PVB thickness.
Laminated Tempered Glass: Application 
Because of the strength, stopping power, safety features and other benefits of laminated tempered glass, it has had many applications. Aside from its use as a building material, it also becomes an option for providing strengthened windshields and windows for vehicles, screens for electronics, glass containers which are subjected to heat, and more.
When it comes to choosing laminated tempered glass material for your building needs, this is something that we can provide. The material can be made available in industry standard sizes, or we can also provide custom cut sizes, based on any measurements, schematics or other details. If you are looking for something, which is specifically tailored to meet your unique needs that won't be a problem! Simply get in touch with us so that we can get the process started.