Parquet Flooring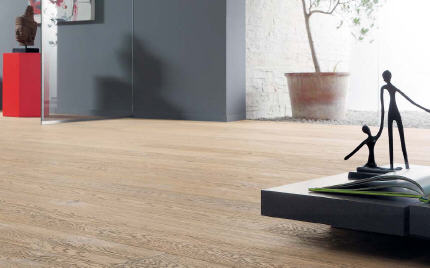 If you are reading this article, then you are probably considering installing parquet flooring somewhere in your home. Parquet flooring make a beautiful addition to just about any room in the house and it is becoming one of the most popular options for new and remodelled homes.
Just what is Parquet Flooring?
Many of us have heard reference to parquet flooring and have probably even walked on it at a neighbour's or friends home. That said, the term "parquet flooring deserves some further explanation and description:
Parquet flooring is different from other types of hardwood or laminate flooring in that smaller pieces are used and arranged in different patterns to create decorative mosaic designs.

There are different types of parquet flooring. Solid parquet made from solid wood pieces is usually the top end or most expensive type. In the more economical process range, parquet flooring that has a hardwood veneer glued to plywood is called panel parquet.
What are the Key Characteristics of Parquet Flooring?
Maintenance – Parquet flooring is low maintenance. An occasional vacuuming or sweeping is all it takes to keep the floor shining and looking like new. If the floor is in kitchen or other high traffic area, you may wish to mop on occasion to remove spills and sticky spots, but otherwise, no additional care is needed. Scratched can be sanded out and covered with a good quality floor wax.
Easy Installation – this is perhaps the most appealing feature of parquet flooring, it is easy for the do it yourself to install. In many cases, the parquet flooring can be installed as a floating floor right over the existing floor if it is even and in generally good shape. The key to a great installation is to do a little planning ahead of time to make sure you know what kind of design pattern you want to end up with.
What to consider when choosing the right parquet flooring
Obviously, the key question is which type of wood to choose. The old standbys such as

oak

,

beech, maple, walnut

or

pine

are still very popular and almost always leaves the homeowner pleased with their choice. In this part of the world, however, exotic tropical woods such  as 

teak, merbau

 and

 bamboo

are also available.

Cost is the next issue. How much to spend on a floor? Considering that you will likely be walking on this floor for years, if not decades, it is important to budget enough to be able to purchase something that you will be happy with for the long haul.

Your lifestyle will dictate the choice – lacquered parquets tend to get damaged more easily from heeled shoes and toys. If you have a lot of foot traffic or children playing on the floor, then an oiled parquet might be a better choice.
In general, it is best to consult with someone who has experience with parquet flooring and can guide you through the myriad of choices and options available today.