PVC Pipe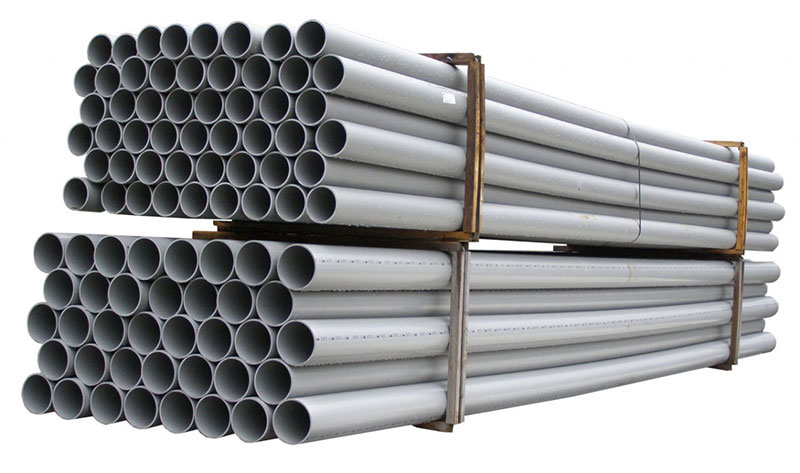 Introduction to PVC Pipe
Polyvinyl Chloride (PVC) piping made from thermosetting plastics is the most commonly used plastic piping material and because of its many properties, it one of the most versatile of pipe materials resulting in a variety of applications and a variety of end- users including engineers, contractors, operators, utilities, industries and for irrigation system. PVC pipes are a product of modern technology and are fast replacing many traditional materials.
 Advantages of PVC Pipes
Environmentally friendly - PVC is energy- efficient to manufacture.
Cost effective - PVC is cost effective in terms of installation and operating costs. There is no need for protective coatings or liners with PVC pipes so they can be expected to outlast alternative pipes.
Safe Material - PVC pipes are a non-toxic and are a safe material that has been in use for a long time.

 

The smooth surface of the pipe makes it resistant to bacterial contamination and thus is suitable for use in water distribution systems.
Corrosion resistant - PVC pipes do not have electrochemical reactions with acids, bases and salts that causes corrosion in metals and thus are suitable for use as a coating material for other materials. It's non-corrosive nature also causes it to be non-reactive with drinking water, leaving the water quality unaffected.
Chemical resistance - PVC pipes have a high resistance to a wide range of chemical reagents in temperatures up to 140°F making it an excellent product for industrial applications.
Thermal insulation - PVC has lower thermal conductivity thus making it very suitable for a variety of thermal insulation applications.
Long term performance, durable & strong - PVC pipes are extremely resistant to wear and abrasion and is therefore more durable than metal, concrete, and clay pipes for the transport of corrosive wastes. It has long-term tensile strength as well as a relatively high resistance to impact damage.
Lightweight - The low weight of PVC means that installation is easier thus minimising the risk of injury to installers. It is so light that a single person could easily move a long piece and can get the piping installed comparatively faster. Less weight also means cheaper cost of transport as well as larger payloads because the majority of transport companies charge by weight.
Flexibility - PVC pipe's resistance to fracture means that it can successfully be used in areas where the surface is subject to external loading such as road traffic. It's elasticity is a huge advantage for buried applications, especially in areas where there is instability in the soil.
Watertight Joints - An essential requirement for all piping applications is joint tightness. Gasketed PVC pipe joints are simple and easy to assemble and can be put to use immediately after assembly.
Coefficient of Friction - All piping systems are concerned with flow rate and pressure. PVC pipes' smoother wall surfaces reduce fluid friction and resistance to flow. This means that slime build-up in sewers is inhibited and encrustation and tuberculation are eliminated resulting in lower maintenance costs and a more efficient water distribution system.
Longer Lengths - PVC pipes are generally supplied in lengths 6 m or even longer. The number of joints required is thus reduced and fewer joints mean faster and more efficient installation with less hydraulic friction and a reduction in leakage.
Flame Resistance - PVC is a material with minimum risk to fire since its ignition temperature is as high as 455°C so it's difficult to ignite. Although PVC products will burn but they will self-extinguish once the fire source is removed and there is less possibility of the fire spreading to nearby materials.
Versatility - PVC gives designers freedom to work when designing new products and developing solutions.It's versatility is seen in its wide range of applications other than pipes, which include medical products, cables, window frames, floor coverings, roofing, packaging, interior design, clothing, billboards and safety equipment.
Applications of PVC Pipes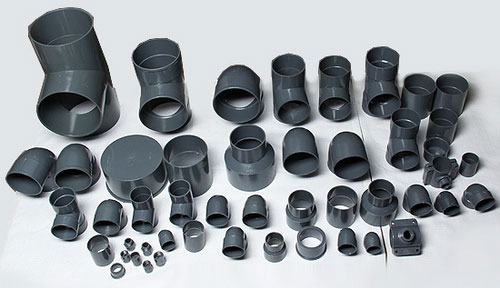 PVC is mostly a 'rigid' pipe product and is an excellent material for just about any pipe application. It can be used under ground or above ground in buildings as well as outdoors. PVC piping is used for Drain-waste-vent (DWV), Water service lines, Sewers, Irrigation, Water mains, Conduits and various industrial installations.
Videos below demonstrates flexibility of PVC pipes extending to personal and domestic usage.