Sand

Introduction to Sand as Building Materials
Sand is made from the physical and chemical breakdown of rocks. It can be derived from quartz (silicon dioxide); limestone (calcium carbonate); feldspar (aluminium silicate). It is hard and strong in nature due to its composition of fine mineral particles.
Basically there are three types:
Pit Sand
Which is reddish orange, sharp, angular and salt free making it useful in concretes.

River Sand
Which is whitish grey and of fine rounded quality. It is used in plastering in the construction industry.

Beach Sand
Which is not used in the construction industry since it contains salt and tends to absorb moisture. The presence of a high concentration of chloride ions can cause corrosion in steel.

Many products used in everyday life are made from this material. It is an important material for the road and building construction. Varying industrial purposes require different kinds of sand used. Without certain types of sand, there would not be glass products, iron products and steel components for use in cars & trucks, steel structures, concrete and asphalt for roads, bridges and houses.
Applications of Sand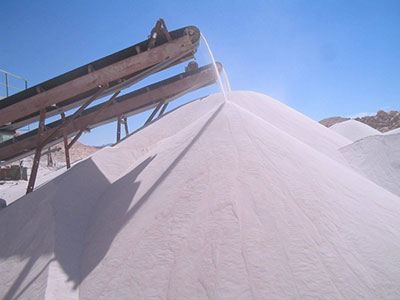 Glassmaking requires silica sand that is free from contaminants, clear in colour, be consistent in grain size and has low iron content. Usually flat glass is produced for residential housing and office buildings and specialty products like mirrors, containers and table tops.
Insulation fiberglass is most often used to control heating and cooling as well as noise in the construction of new homes and office buildings.
Silicon-based chemicals industries require sand products to be consistent in quality and size distribution.
Silica sand for foundry production needs to be free from imperfections and to have a high quality finish. It is used in making molds and cores and used in the casting of steel, copper, iron and aluminium products.
Blasting sand is used in the construction industry as an abrasive to clean metal.
Silica used in building products and construction must consider a variety of industrial sand properties. The properties must include functional consistency for thin layers and even trowelling, colour and aesthetic appeal for construction end users and for geothermal applications, heat conductivity and physical stability. In construction, steel and iron beams known as girders are used in the building of bridges, office buildings and homes.
Other construction-related products where sand is used include stucco, plaster, roofing, bricks, grout, non-skid floors, paint and plastics. It is used on the backs of roofing shingles as a non-stick component and in some bricks, cement, stucco and plaster, for colour, strength and resistance to weather.

It

 is used as a flattening agent in paint and dispersant for pesticides. It enhances toughness, increases 'scrubability', prevents chalking and improves resistance to weather.
Recreational products, where sand is used for golf course bunkers, pool filter media for residential homes and baseball diamond infield mix which have a reddish silt or clay adhering to the grains giving an aesthetic colour to the baseball and football fields.
Interesting Video by Intel : Sand to Silicon
Producers of this material take great care in preventing dust on site and in production buildings. All workers are provided with safety equipment and are well protected. This industry has been regulated by OSHA MSHA and EPA.