Steel Fibre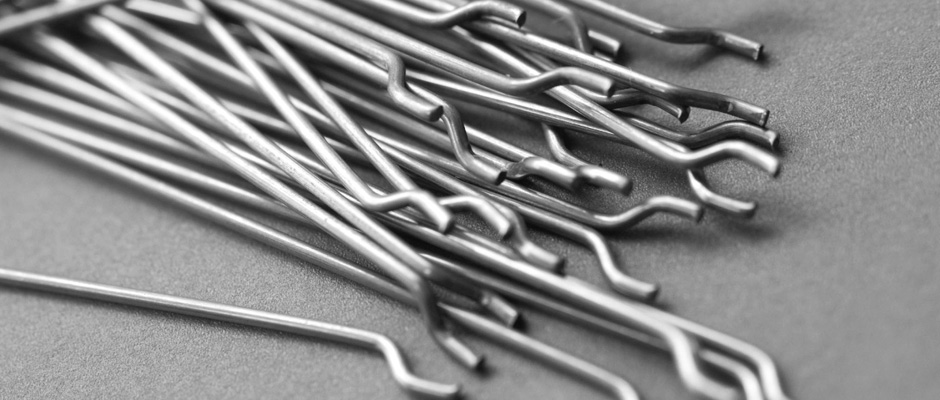 Today's modern warehouses have become very demanding environments. Steel fibre reinforced concrete floors are a critical element ensuring a safe and efficient operation in warehouses being built in all corners of the world. Our supply of steel fibre in particular provides a strong response to the challenge of crack control, which in turn decreases the maintenance costs on flooring while creating a more durable and environmentally friendly warehouse. Industrial concrete floors have their own set of very specific requirements. From liquid-impermeable surfaces to foundations for high tech clad racks, the modern structural floor plays a crucial role in ensuring a safe and efficient operational platform.
Our new range of steel fibre products provides you with the right solution for steel fibre reinforced concrete flooring. Steel fibre reinforced concrete floors have many advantages. Since the steel fibre is evenly distributed throughout the concrete, every part of your floor is actively reinforced – top, core, sides and bottom of the slab. No matter the forces and pounding your floor will receive, the fibres are going to be in the right place to do the job.

Four Reasons To Use Steel Fibre In All Your Industrial Grade Floors
#1 – Optimal Load Bearing
Steel fibre reinforces the floor across the entire concrete slab. Load placement and the resulting stresses are managed easily, thereby avoiding deformations and costly deterioration of the floor surface. Load bearing strength increases significantly,  depending on the type and range of steel fibre used in the concrete mix.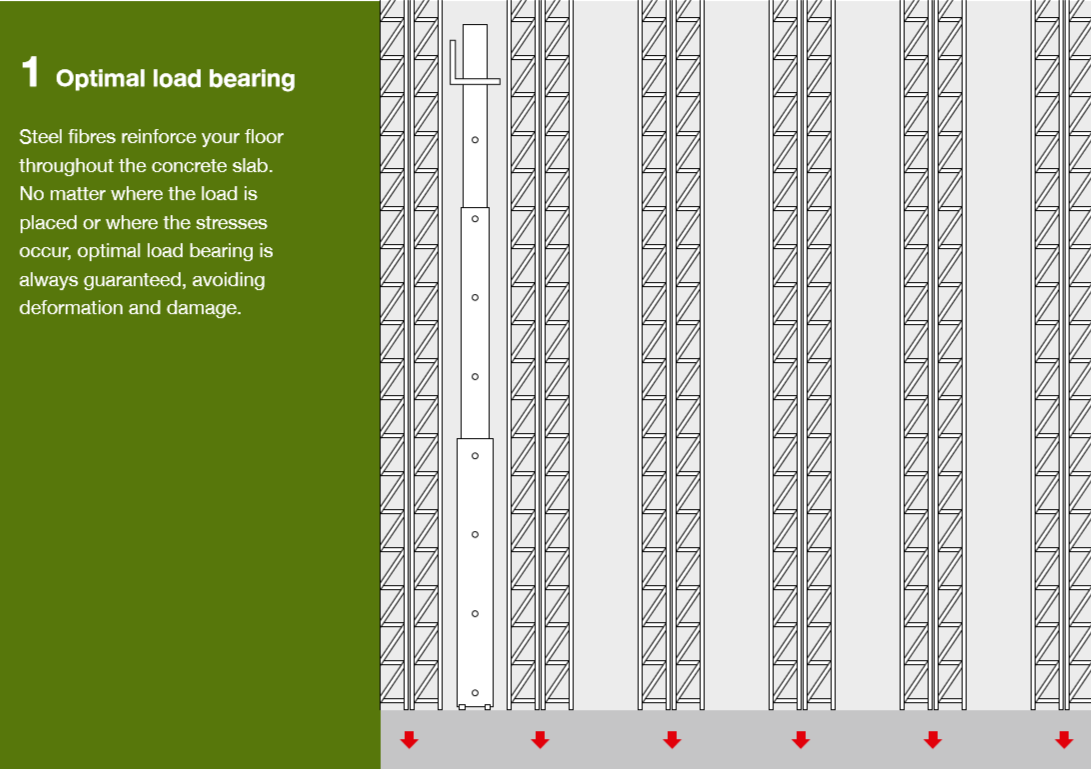 #2 – Optimal Crack Control
Control of,  and reduced cracking, are a direct and measurable benefit of a floor poured with steel fibre reinforced concrete. This will guarantee the safe and efficient operation of your warehouse while creating a liquid tight surface that complies with even the most stringent safety and environmental requirements. This feature is particularly important in environments where chemical spills might occur.

#3 – High Fatigue Resistance
Steel fibre floors provide a higher level of fatigue resistance than other options on industrial concrete floors. This reduces costs associated with repair and maintenance in the demanding environment of today's modern warehouse, enabling much longer lifespans in even the toughest applications. Your floor's concrete thickness can be optimized without sacrificing durability or performance over time.

#4 – High Impact Resistance 
Industrial concrete floors that use steel fibre in their construction are better able to resist damage when exposed to impacts from equipment and materials. The net result is that your floor will stay intact over time, ensuring smooth operation for years longer than ordinary concrete flooring. Your new floor will handle heavier loads with reduced wear and tear with the correct grade of steel fibre in the concrete mix.

Video below offers a quick look at how steel fibre is used to reinforced concrete floors.