White Acrylic
Acrylic is a remarkable material that is used in literally thousands of applications in industry, including the building trades. Its versatility, beauty, and ease of use make it the perfect material for many home décor and building applications. Within the acrylic family of materials, white acrylic sheets are one of the most popular products, often used in the home and especially in the kitchen.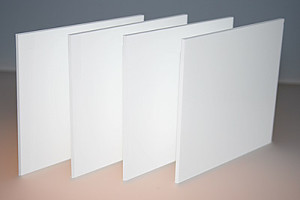 Benefits and Strengths of White Acrylic
White acrylic looks like glass but is 10 times more resistant to breakage. Acrylic has many of the visual characteristics of glass but can be used in applications where glass would be susceptible to breakage.

White acrylic sheets can be coated or treated to increase the materials resistance to scratching, light reflection and fogging.

White acrylic is thermoplastic – this means that it can be heated to mould or conform to almost any shape required. This makes it an ideal candidate for rounded edges on counters, tables and other furniture.

Acrylic materials, in general, are more weather resistant than just about any other type of plastic. They won't yellow over time and are tough enough to withstand the rigors of outdoor use in a patio or garden area while still retaining their original beauty.
Textures & Patterns on White Acrylic
Frosted white acrylic is probably the most popular textured sheet used in home remodelling and design applications. It can be textured on one or both sides, depending upon the need. This surface finish diffuses light well in areas where there is backlighting required. It is easy to clean and fingerprints don't show, making this a good choice for partitions and wall panels.

Matte finish is another popular surface treatment for white acrylic Especially useful for applications that use light to create a unique effect. The finish can be adjusted to increase or decrease the amount of light that is absorbed or reflected.

For things like cutting boards and chair mats, a single sided stipple texture is often desirable. Stippled white acrylic sheets are easily fabricated into desired configurations and can be coloured or painted with almost any design imaginable.

Whether the surface is a matte finish, frosted, or stippled, patterns can be imprinted at the point of manufacture that create designs that enhance the beauty while adding variety to the final product.
White acrylic in sheet form can be purchased in a wide range of shades, offering different levels of opaqueness and reflectivity. The amount of light transmission through white acrylic sheets generally run from 2000 to 8000 on a light transmission scale, where the higher number will present a duller shade while the brightest shade is at the lower end of the scale.
White Acrylic is an ideal materials for kitchen applications because of its bright and clean appearance. It can be painted, molded, cut and formed easily without losing any of its desired physical properties.  It is the perfect material for kitchen cabinets, sinks, countertops and counter protectors as well as furniture found in the kitchen such as chairs and tables.