Building A Brighter Future at Archidex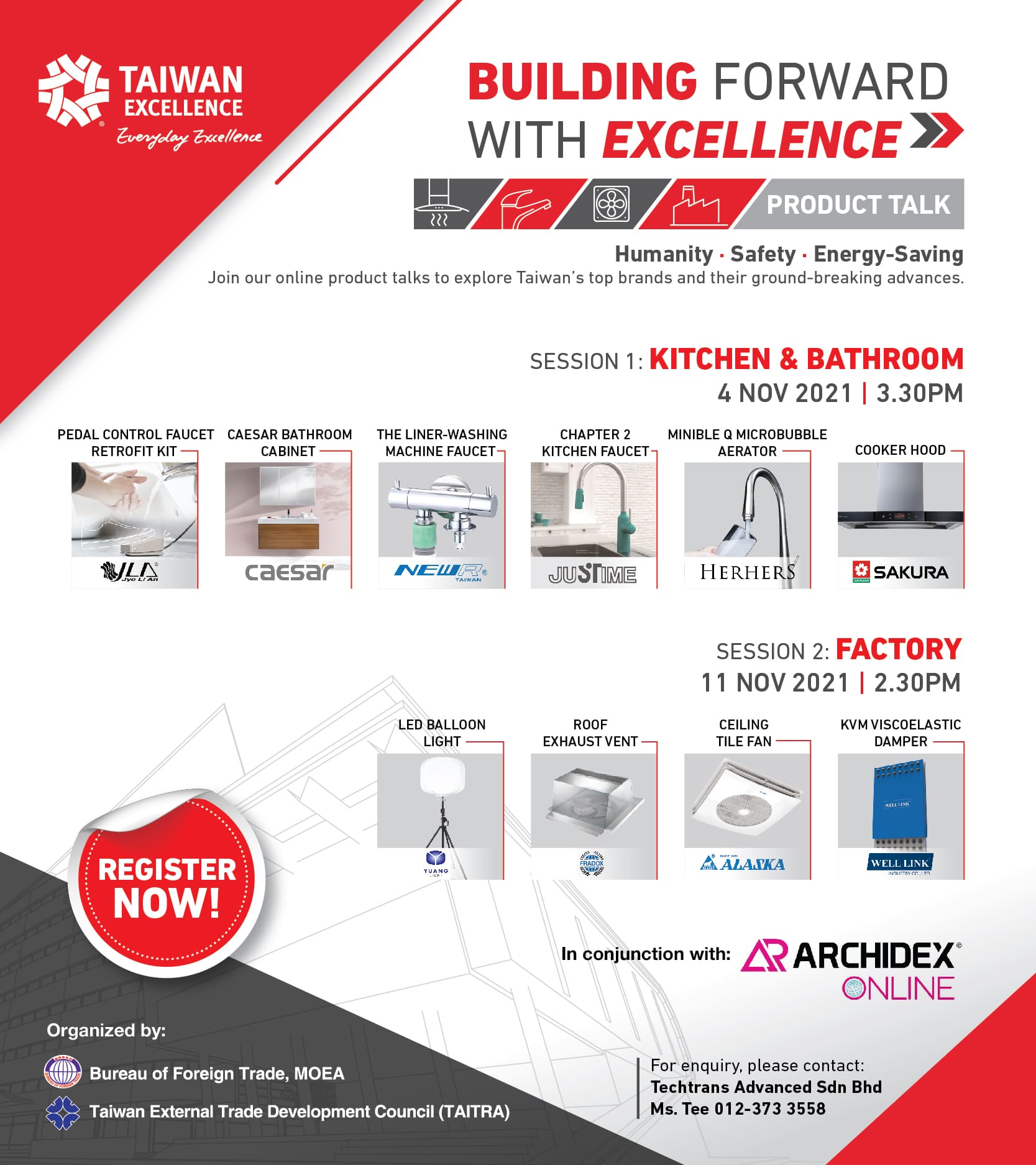 (Kuala Lumpur, 25 Oct) "Taiwan Excellence", representing the best premium products from Taiwan, is back again. Though Malaysia's borders remain closed, the show must go on – this year, 10 award-winning kitchen, bathroom and building materials brands will participate in the ARCHIDEX ONLINE Malaysia Exhibition. Malaysian building material industry players are invited to this exhibition for "value-added business opportunities" in order to jointly develop the South-East Asian market.
In response to the pandemic, the 21st International, Architecture, Interior Design & Building Exhibition (ARCHIDEX) will simultaneously hold an online exhibition this year. The online exhibition will take place over 10 weeks (October 4 to December 10), and will be full of exciting product displays, webinars, and even e-business matching sessions for the best product sourcing opportunity.
Taiwan Excellence will focus on 2 categories: Kitchen & Bathroom and Factory. Two online product launches will be held on Nov 4 and Nov 11 respectively, with industry veterans shedding light on the latest trend of healthy, efficient and energy-saving innovative building materials.
In view of the high-quality and the "intelligentization" of architectural space in the future, Taiwan's building materials industry has gradually moved towards a diversified development spectrum of integrating designers, new technologies, and an emphasis on non-toxic or environmentally friendly materials. It is expected to become an integral element for architects in the next wave of construction.
The products under the Kitchen & Bathroom category that will be unveiled this time include:
Deep Cleanse with Microbubble Faucet

HERHER SYNERGY is an enterprise that specialises in microbubble faucet aerator technology. Microbubbles created by MiniBle Q are 500 times smaller than the size of human pores, allowing them to penetrate the surface of our skin or vegetables, removing dirt, grease, and achieving deep cleaning.

Multiple Angle, Excellent Performance

LIANG PING's expertise lies in the design of outdoor faucets, such as balcony, laundry areas and gardens. In order to create a natural and comfortable user experience, their Liner-Washing Machine Faucet is an independent 2-outlets water tap. It is ideal for connecting washing machine at the backyard and provide an extra water outlet for gardening and other needs.

No Seam, No Dirt Stuck in Between

SANITAR, under their own brand Caesar, is the only sanitary ware manufacturer in Taiwan capable of developing a super large integrated porcelain basin. Introducing their high-temperature fire-resistant ceramic technology (Fine Fire Clay), which uses a one-piece firing method in order to make the products integrally-formed. With this method, there are no seams on the surface, making cleaning a convenient process.

Contactless Control for Extra Prevention

JYE LI AN specializes in the automation of household products and bathroom fixtures. Their Pedal Control Faucet Retrofit Kit is a DIY upgrade to any sink and helps to prevent the spread of viruses. The original faucet doesn't need to be changed and can be easily installed without the help of the professional.

Pull-out Sprayer for Efficient Cleaning

With 40 years of experience, SHENG TAI prides themselves on their design in sanitary products via their own brand "JUSTIME". Their Chapter 2 Kitchen Faucet combines a swivel spout, which can be used with a single or double sink in the kitchen, with a pull-out spray head to increase convenience and flexibility.
As for the Factory category, featured companies include:
Natural + Mechanical Cooling Function Vent

FRADOX is a global company committed to working towards eco-friendly thermal solutions. Their Roof Exhaust Vent uses an upward-opening design to cool via natural convection. With that, it provides healthy indoor climate and unparallel comfort with minimal energy consumption, at minimal cost.

Yuan Light! Brighten Up Your Night

CHING YUAN is a leader in manufacturing high watt LED lighting products, ventilation systems and spot coolers. Their LED Balloon Light Tower is not only energy saving but also combines fan heat dissipation in order to extend the life of the lamp. Their patented balloon cover provides warm and glare-free lighting all around.

Purification & Sterilization Through Circulation Fan

SHENG YUAN, under their "Alaska" brand, is a producer of silent ventilating fans and artistic ceiling fans. Their Ceiling Tile Fan applies Plasma floating ion technology, which releases 15 million high-concentration purification and sterilization ions through the module. It automatically purifies the air fluorine flowing into the circulation fan.

Worry No More During Earthquake

WELL-LINK is the largest manufacturer of anti-seismic devices and structural bearings for buildings and infrastructure in Taiwan. Their KVM Viscoelastic Damper is a velocity displacement dependent energy dissipation device for vibration control and seismic protection of structures, reducing the effects due to earthquakes and wind.

Don't miss out on this informative online product launch by Taiwan Excellence! For more details, please visit the event website:
Visit the following website to register for the online talks: https://bit.ly/2Z42OET or contact Ms Tee 012-373 3558