Pool Deck
Pool Deck Materials
Pool decks should be aesthetically pleasing, comfortable to walk on and cool to the touch as well as textured and non­-slip. Home owners are thus advised that the choice of material for their pool deck is very important. Of course factors such as the cost of installation, ease of maintenance, slip resistance, durability and how well it enhances the surroundings, its resistance to climatic and weather changes are all very important considerations.
Above­ Ground Pool Decks
---
Aluminium and vinyl are good choices because of their durability and ease of maintenance.
---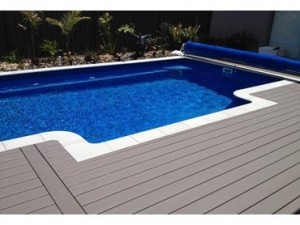 PVC is slightly more expensive and also more durable than aluminium.
Easy to maintain

Quite resistant to daily exposure to sun and water

Shorter installation time and;

More colour fast than other materials
---
Wood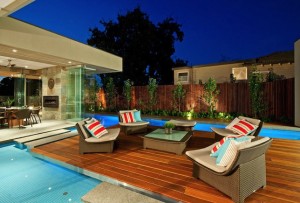 Wood comes in different colours and are aesthetically attractive and complements well with the outdoors and is environmentally friendly.
Usually pine is used because it costs less than teak.
Teak has durability, resistance to mold, mildew and insects as added advantages.
Mahogany or redwood decks are more expensive but more pleasing to the eye, sturdier, do not splinter easily and more resistant to the weather. However, installation is more difficult and wood needs to be sealed and waterproofed yearly.
Decks for Below­ Ground Pools
---
Poured Concrete is economical to install and is best for homeowners on a tight budget. Colour can be added as well as a stamped design. All pool deck materials can become slippery when wet, but using broomed, exposed aggregate finishes / textured overlay or mixing a clear plastic grit into the sealer will definitely improve the surface traction of the concrete.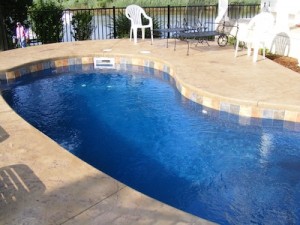 The stamped design could be mixed with plain concrete for a more attractive appearance. Maintenance is also easy with occasional cleaning and resealing.
Concrete decks with decorative toppings reflect the sun's rays and significantly lower the surface temperatures and making the surface cooler on bare feet. Decorative concrete comes in different shapes, sizes, colours. Surface treatment produces plain broom ­finished concrete, exposed aggregate and imprinted patterns. Decorative treatments can also be mixed and matched such as combining stained concrete with an imprinted or stencilled border or improving on a coloured overlay with engraved patterns.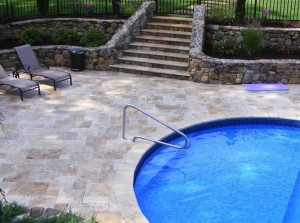 Unglazed ceramic
tiles
with matte finishes mimics natural stones.
The advantages are durability and its user-friendliness but the downsides are its more expensive and that the grout may need to be replaced once every few years.
---
Paving Stones
Paving stones are a favourite choice for in­-ground pools and they come in natural or manufactured stones pavers with a variety of colours, shapes, sizes, textures. The common types being bricks, tumbled, cobbled, marble, granite, flagstone and travertine. 
Natural stone pavers are more expensive to install because it involves individual placement of the stones.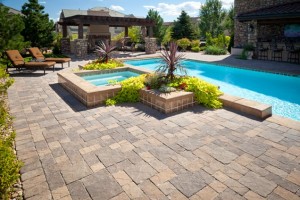 The advantages includes:
Long life span

Fade and slip resistant

Low maintenance and easy to repair with just a replacement of the pavers

Less chance of staining and many suppliers offer lifetime guarantee against cracking and breaking