Steel Deck

A steel deck is a sustainable and versatile solution to roofing or flooring installation or construction. Steel decks are made from corrugated steel sheets supported by beams or joists. These materials are used to support concrete or the insulating frame of a roof. Its applications include structural decking in warehouses, and there are also roof decks, composite decks, form decks and speciality decks.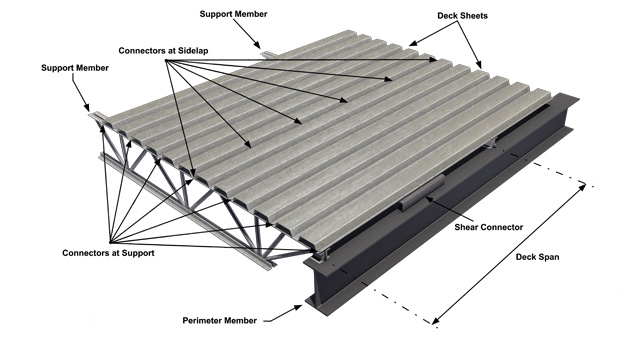 The Benefits of Steel Decks are:
● Superior Strength­ 
The superior properties of steel have allowed for the design and fabrication of the deck to result in a high strength–to­ weight ratio product. These materials are lighter but much stronger than conventional slabs. Steel decks provide the necessary reinforcement and combined with the strength of concrete, have resulted in an altogether stronger slab. The steel decks are designed to reduce any vertical slip between the steel and concrete within the slab and to prevent any movement between the slab and the supporting beams.
● Durability­
Steel has extremely good corrosion prevention properties with guaranteed minimum yield strength depending on specifications used. Steel decks will not twist and warp over time and is resistant to weather, moisture, time and pest infestation.
● Flexible Design­
Steel deck is primarily a structural component but its uniform quality gives it an attractive appearance especially when exposed in other applications. Steel decks are a combination of aesthetics and structural capability. Their varied designs give them more strength, flexibility and efficiency. Steel decks are easy to maintain with the properly specified factory and field coatings.
● Versatility­
Steel decks are available in various depths and rib spacings, with and without stiffening elements, with and without acoustical material, cellular and noncellular, and in varying material thicknesses. This extensive choice makes steel deck applicable to a wide range of projects and structural designs.
● Uniform Quality
­ Engineering breakthroughs and continuously refined production techniques have ensured that SDI manufacturers produce decks that conform to specified standards.
● Easy On­-site Handling­
Steel decks pre-­cut in length and pre­-packaged in bundles before being transported to site. These bundles are easily moved into specific construction areas and the individual sheets are assembled by hand.
● Speedy and Safe Construction
Erection of the decks is easily done and when the concrete slab is being poured, progress of the upper floor is not obstructed. It is also possible to allow for stud welding as well as other concrete flooring contractor services. In fact the entire installation of the concrete slab can be done by one skilled and experienced provider.
● All Weather Construction­
Steel decks can be erected in most weather conditions thus eliminating costly delays that can occur with other types of floor and roof systems.
● Required Fire Ratings­
Steel decks have high fire resistance unprotected ratings. U.L.fire resistance ratings on standard roof and floor assemblies have been obtained by the Steel Deck Institute. Individual SDI manufacturers have ratings on their own products. Most fire resistance requirements can be met with products manufactured by SDI members.
● Value and Economical­
The final product value is determined by combining initial costs, lifecycle costs, and overall performance. Steel decks give the best value in terms of floor and roof designs as they ensure top performance whilst keeping costs low.