Wooden Door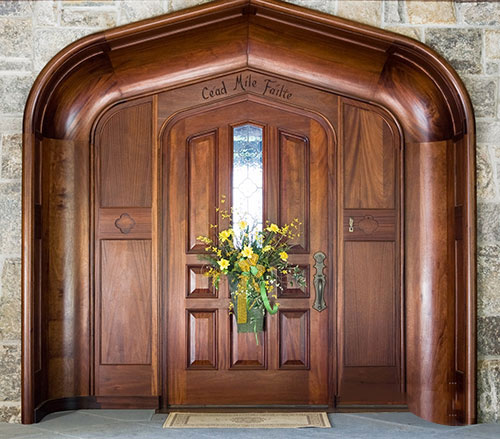 A front wooden door often gives visitors their first impression of your home. A warm, solid, and beautifully crafted wooden door with a uniquely hand carved design says a lot about not only your home but its owner too! While other door types such as fibre glass and steel doors tout their cost and energy efficiency, the look and feel of a high quality wooden door still defines the ultimate in classic design and beauty.
Benefits of the Wood material
The Institute for Building and Urban design at Heriot University recently completed a study comparing different types of doors and windows, wood and wood composites being among the materials in the comparison. Here is a summary o
f their findings:
In general, wooden doors offer the consumer a superior product that is natural, environmentally friendly, and aesthetically appealing. Being made from timbers, wooden doors are by definition, a renewable product that don't require petroleum based materials in their manufacture. Wooden doors are carbon neutral since they are made from trees that consume rather than emit carbon into the atmosphere.

Wood is one of the strongest materials available for doors. Wood is also a natural insulator that offers the absolute maximum comfort for your home.

Wooden doors are easy to maintain. Scratches and scuffs that occur over the door's lifetime can be easily sanded out and resealed with varnish or paint. Wooden doors won't rust, discolour or fade with age as some steel or vinyl based products will.

Because of their natural beauty, insulation value and classic look, wooden doors will add to the value of your home when it is time to sell. Relators will tell you that the impression made by a classically designed wooden door forms a lasting positive impression of the home itself.
Types of Wood 
Teak wooden doors are known for their high durability and resistance to insects and decay. They are favoured in tropical regions such as Malaysia. Consumers will find that there are several grades or classes of Teak wood, including Dandeli, Malabar and Burma Teak, which are all higher grades 

of this very high performing wood.
Deodar wooden doors are made from wood that contains a high level of oils and is probably the strongest wood appropriate for a door. Besides its strength, Deodar is also a light wood and offers a very smooth finish.
If you believe your door will experience heavy use and lots of abuse, than a wooden door made from Sal Wood might be a good choice. This wood is harder than teak but is quite difficult to saw and work with. Its high resistance to white ants and different types of fungi also make it a favoured wood in tropical environments.
Long one of the most popular building materials, Oak offers the home owner a very durable wooden door material that is highly resistant to damage. This wood is used primarily on interior doors and is available in two species – white and red oak.
Creative use of Wooden Doors
As one of the rare natural materials in the world that allows for manual (human) manipulation, i.e hand crafting or carving, such wooden doors may have become an expression of art and culture and design!